As part of our ongoing commitment to the security and privacy of your data we have Multi-Factor Authentication (MFA) in place to support you and your team.
What is MFA?
Simply, it's an extra step to confirm it's really you when logging in - you'll enter this code in addition to your password. This helps reduce risk from lost or stolen credentials and helps to keep your data secure.
Multi-factor authentication (MFA) is one of the easiest, most effective actions we can take to improve the security of your data. It's no longer a 'nice to have' but a necessity.
Who does it affect?
All users including: Super users, client users and supplier users.
Why have IAND chosen to use email?
This is to make sure it is easy for you to use. As long as you have access to the email address you use to log in, you will always have access to IAND.
When will I need to authenticate?
After entering your email and password to log into IAND, you will be sent to a screen requesting your authentication code. This 6 digit code will be sent to your email address. Enter the code and click 'Log in'.
Note: If you are new to the platform, you will be asked to authenticate the first time you sign into the platform after completing your profile setup.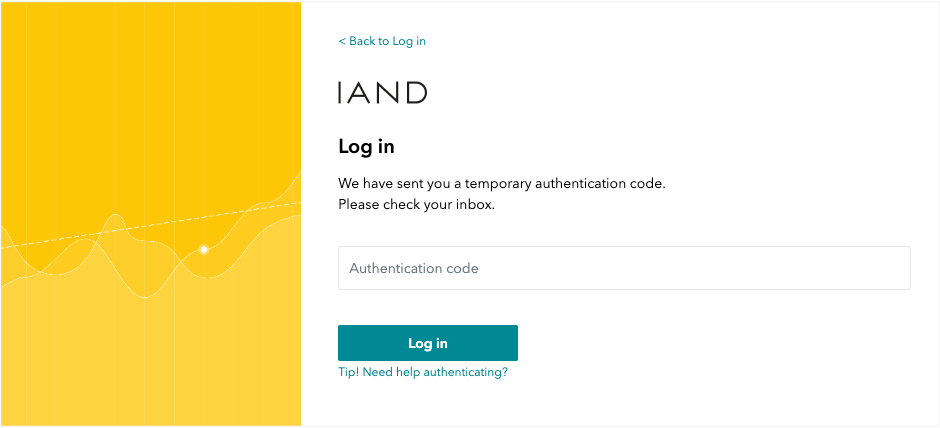 TIP! To generate a new authentication code, click 'Back to Log in' and re-enter your login details.
Will I need to re-authenticate?
To ensure ongoing security of your account you will be required to re-authenticate once every 14 days. In addition, you will need to re-authenticate if you sign in from a new device or browser, clear your cookies, or use your browser's private mode.
Note: There is no need to re-authenticate when switching between your portfolios if they are linked to the same user account.
What happens if you enter the code incorrectly?
If you enter the code incorrectly 10 times, you will be locked out of your account. An email will be sent to your login email with a link to unlock your account immediately, or you can attempt to log in again after 1 hour.
What if I receive a MFA code unexpectedly?
Please contact support@iand.com to enable further investigation.