This guide suggests tasks to explore your organisation's supply chain, get to know the key IAND features and understand how we can benefit you within your role.
Jump to:
Explore the Companies Map and Index
Explore Insights (Level A & B users)
Before you start | Watch our quick start guide
Log in and head to your Homepage to watch our 5 minute "Quick start guide for clients" (highlighted in yellow in the image below). This will give you an introduction that will help you to understand navigation of the platform. You can return to your Homepage on IAND at any time by clicking the icon in the top left of the screen.
Note: Your authority level/user permission will have an impact on what you are able to access and do on IAND. This can be found on your Homepage on the left hand side.
Note: These tasks can be done before a supplier is onboarded to the platform. Further collaboration features are available once a supplier is live.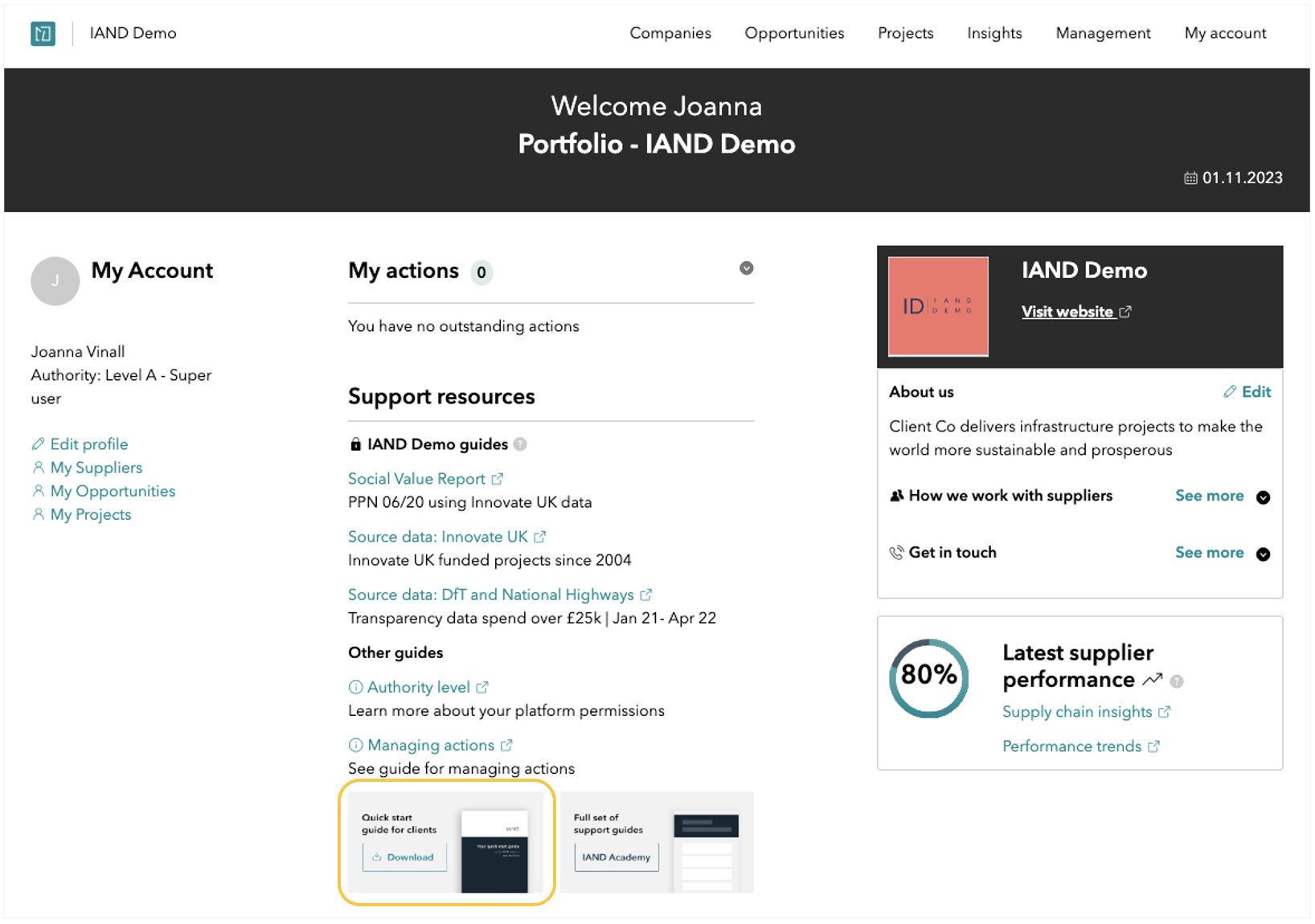 Explore the Companies Map and Index - 10 mins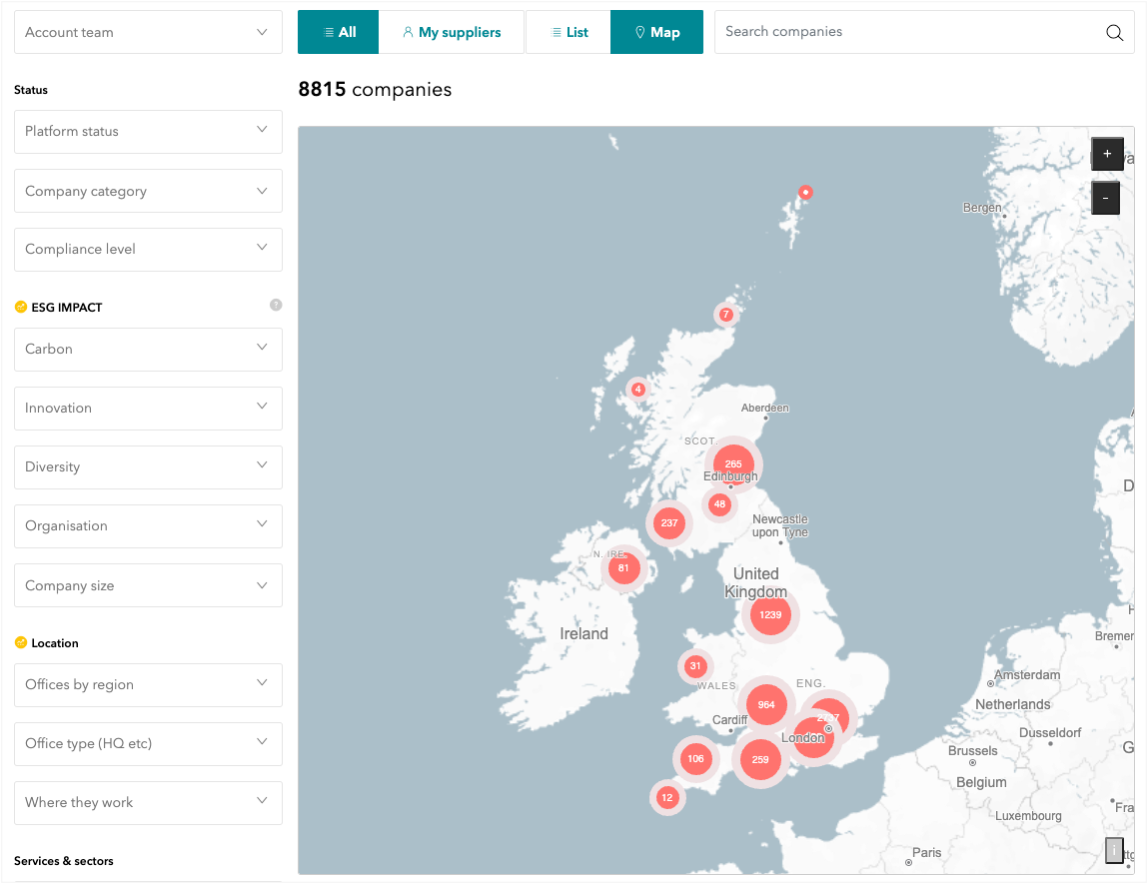 Hover over Companies in the top navigation bar and click "Map" to go to the map view of all your suppliers. This gives you an overview of how your supply chain is distributed across the UK, showing where your suppliers are based region to region. Try:
Zooming in and out of the map on a region
Using filters on the left to find suppliers in a region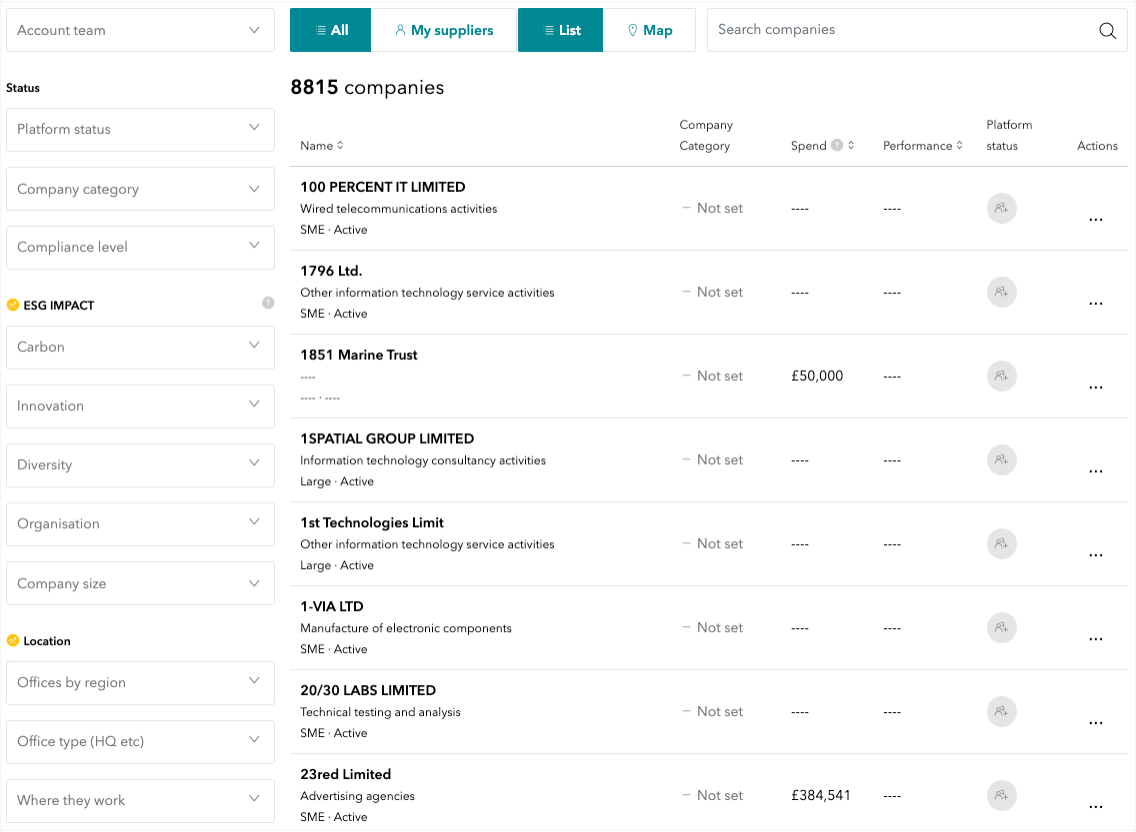 Hover over Companies in the top navigation bar and click "Index" or click "List" on the Companies Index page itself to go to the list view. Try:
Sorting your suppliers by spend by clicking the arrow at the top of the "Spend" column
Using the Company size filter on the left to show a list of SMEs
Using the Innovation filter to find suppliers who have led on innovation (e.g. Innovate UK funded projects)
Using the Diversity filter to find organisations with a high percentage of women in senior roles
Using the SIC code filter to find suppliers delivering particular services you're interested in
Using 2 or more filters at once to find suppliers who meet multiple criteria (e.g. SMEs based in a certain region)
Using the search bar to find a supplier you work with and clicking to see their Company Profile
Explore a supplier - 5 mins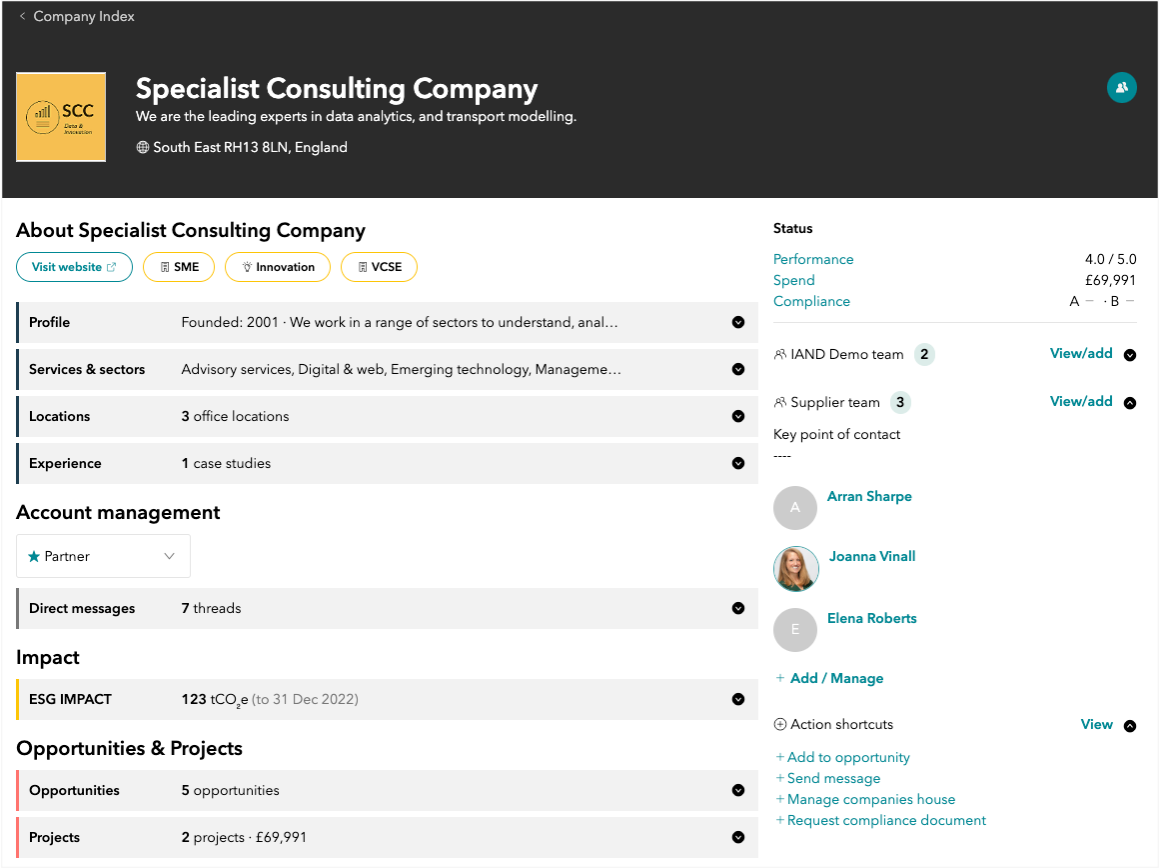 A supplier's Company Profile holds all of their key information. It includes more about the supplier, which services they provide and what sectors they operate in. There is ESG information for the supplier to help you towards meeting the ESG goals for your supply chain. There is also detail of how you have worked with this supplier across tendering Opportunities and Projects as well as governance information such as compliance documents. You can get in touch with the supplier team by sending a direct message via their Company Profile. Try:
Reviewing the location of the Head Office for the supplier
Note: Suppliers can add additional offices when they are onboarded, which populate on the map
Reviewing their ESG data
Reviewing their Projects (i.e. the contracts that you have with this supplier)
Explore the Project Index - 5 mins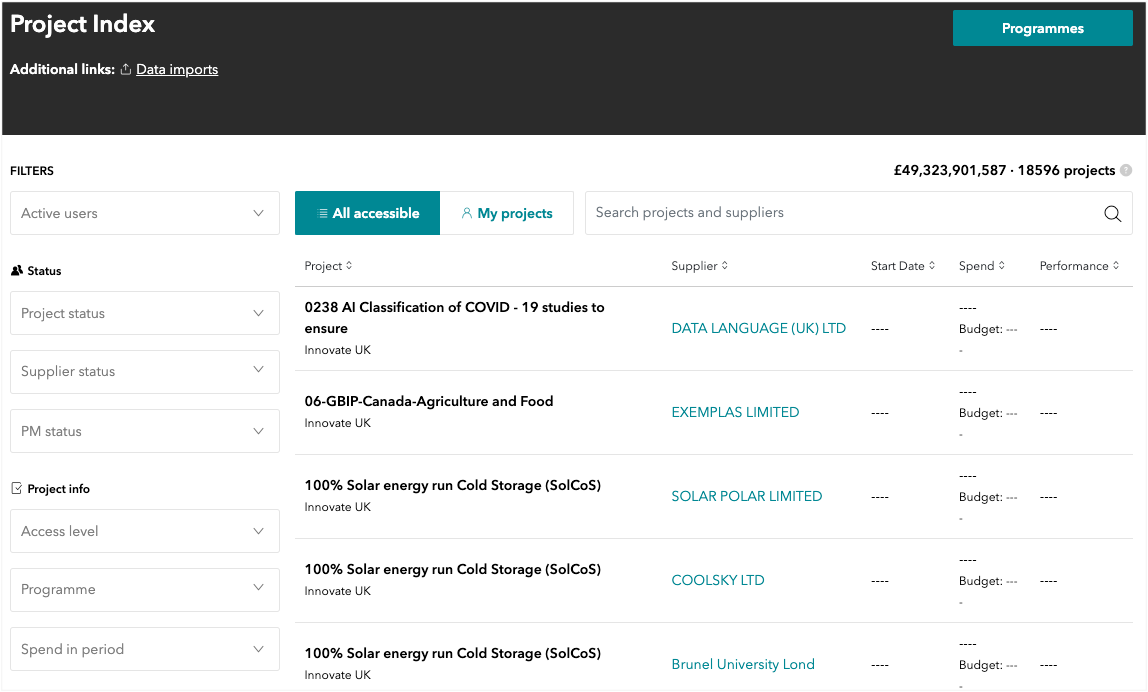 Hover over Projects in the top navigation bar and click "Index" to navigate to the Project Index. This is a list of all of your contracted work with suppliers on a contract-by-contract or Project basis. Try:
Sorting your Projects by spend by clicking the arrow at the top of the "Spend" column
Using the Programme filter if your organisation has different Programmes to separate Projects and spend
Using the search bar to search for a Project that you're working on
Note: Your Projects will be automatically assigned to you on the next import
Click on one of your Projects to explore the information that will be available to you once the supplier is live
Explore Insights (Level A & B users) - 5 mins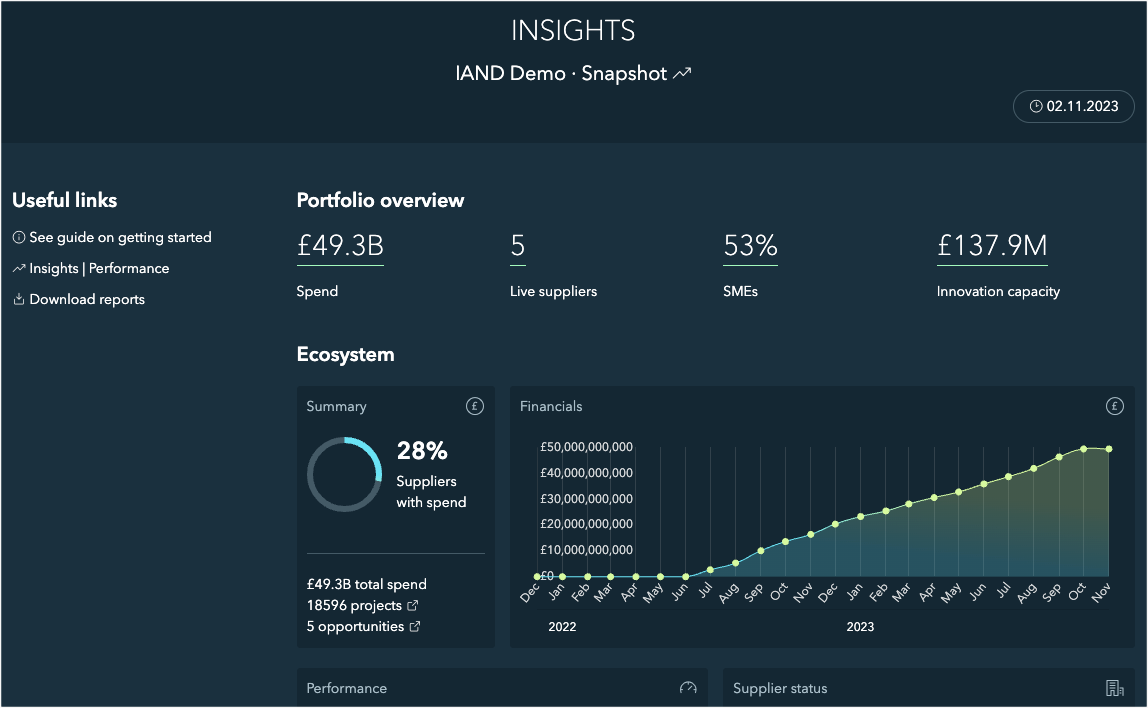 If you are a Level A or B user, hover over Insights in the top navigation bar and click "Snapshot" to see reporting information on your supply chain as a whole. Try:
Reviewing financial information and impact information
Reviewing supplier status and supplier performance information
Reviewing supply chain governance & risk information