The interactive map view on Companies makes it easy for you to find local suppliers.
Find out how Map view can help you evidence your local SME supply chain and hit new client and government targets on social value.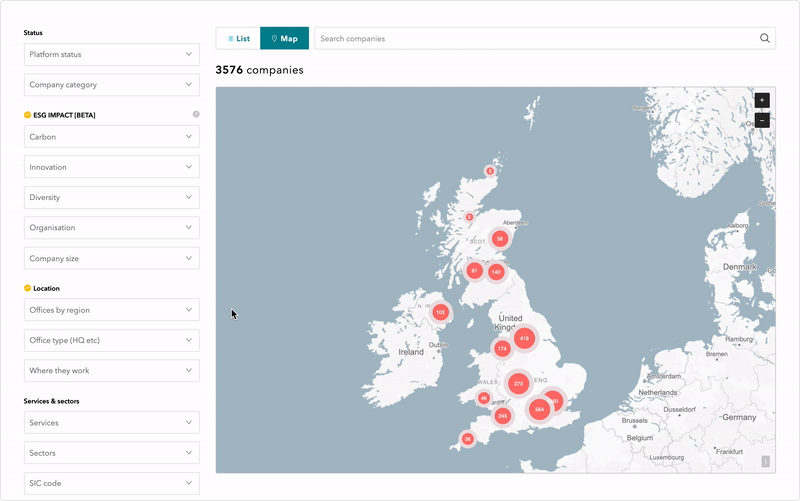 Browsing the map
Navigate to Companies > Map or toggle from the List view to see the map.

Use the filters to narrow down your search. For example, isolate one or more regions using the "Offices by region" or "Where they work" multi-select filters. Select other sourcing criteria (e.g. SMEs) using the other filters.

When searching for office locations, use the "Office type" filter to select from "Headquarters", "Other offices", or "Registered address".
Note: if you select both the "Headquarters" and "Registered address" you might get duplicate records.

Click on a cluster to see an area in more detail.

Zoom in using the +/- buttons or by scrolling using your mouse. Click and drag to pan around the map. On mobile, use two fingers to pan or pinch and zoom.

Select a single point to identify the supplier in that location and view a snapshot of their profile. From the snapshot, click the supplier's name to open their complete Company Profile in a new tab.

When there are multiple suppliers in very close proximity, you can click on the cluster and use the scrollbar in the snapshot to identify each supplier.

Search for a specific supplier from the search bar above the map. One supplier can have multiple office locations on the map.

Easily switch between Map and List view using the buttons next to the search bar.