The Company Profile is designed for you to showcase your company by highlighting your products and services. It also holds a historical account of your relationship with your client.
A complete profile makes it easy for clients to find you in searches when they are sourcing suppliers for bids and opportunities.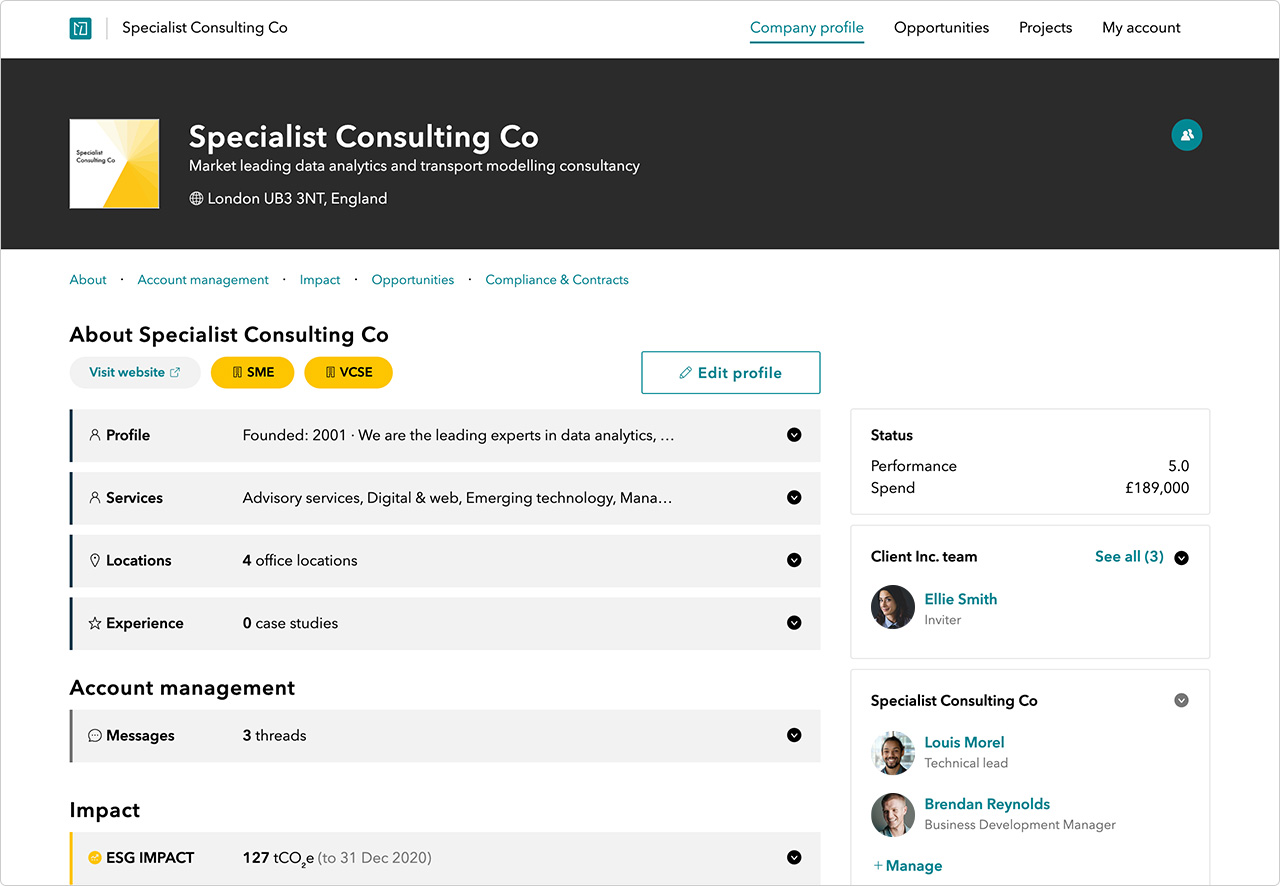 For a quick introduction, watch our short video guide on the Company profile here:
Personalise your profile
Your Company profile is divided into a Header, an Account team section on the right, and core sections down the left hand side, which contain modules that expand to show more detail.
To get started personalising your profile, hover over Company Profile in the top right navigation, click View company profile from the dropdown, and follow the steps below.
1. Add Key Company Information
Click the Edit profile button found under the About section. This will take you to a form where you can add:
Company name: update the company name displayed on your Company Profile.
One line description: will appear in the header of your profile e.g. "Healthcare and heritage architects". Try and keep this to 90 characters or less.

Information about your company and services your offer: where you can provide more information about your company and the services you provide.

Founded year: add the year your company was founded.

Website: your website is linked from your profile to help clients get more information about you. The field needs the full address with the prefix "https://"
TIP! If you don't have a website, use your LinkedIn profile.

Confirm if you are a VCSE: see our guide on ESG Impact to learn more.

Regions covered: select which regions your company serves from the list.

Services: select your services from the list so that your profile shows up in client searches.
TIP! The list is defined by your client, but if you provide other services you can add them as specialist services, e.g. Digital Twin or BIM. To do this, return to your profile, expand the Services & sectors module and click +Add next to Specialist services.

Sectors: select the sectors you work in from the list to help clients find you when they are looking for specific experience.

Logo: this should be a JPG or PNG file, in a square format and no larger than 250x250 pixels.

Employees: To add more colleagues to the platform, see step 2 below.
Make sure to save your changes!

TIP! Enhance your profile by adding your Companies House number.
2. Invite colleagues to join for resilience
IAND is free for suppliers and you can have as many users as you like. We recommend you invite a colleague responsible for business development to the account to make sure they don't miss any communications from your client. We also recommend you have at least two users on your account for resilience should someone leave your organisation.
To invite a colleague
Go to the Account team section on the right and click the +Manage link.
Alternatively, hover over Company profile in the navigation bar and click Manage users from the dropdown.
From this page, click the button to Set up a new user.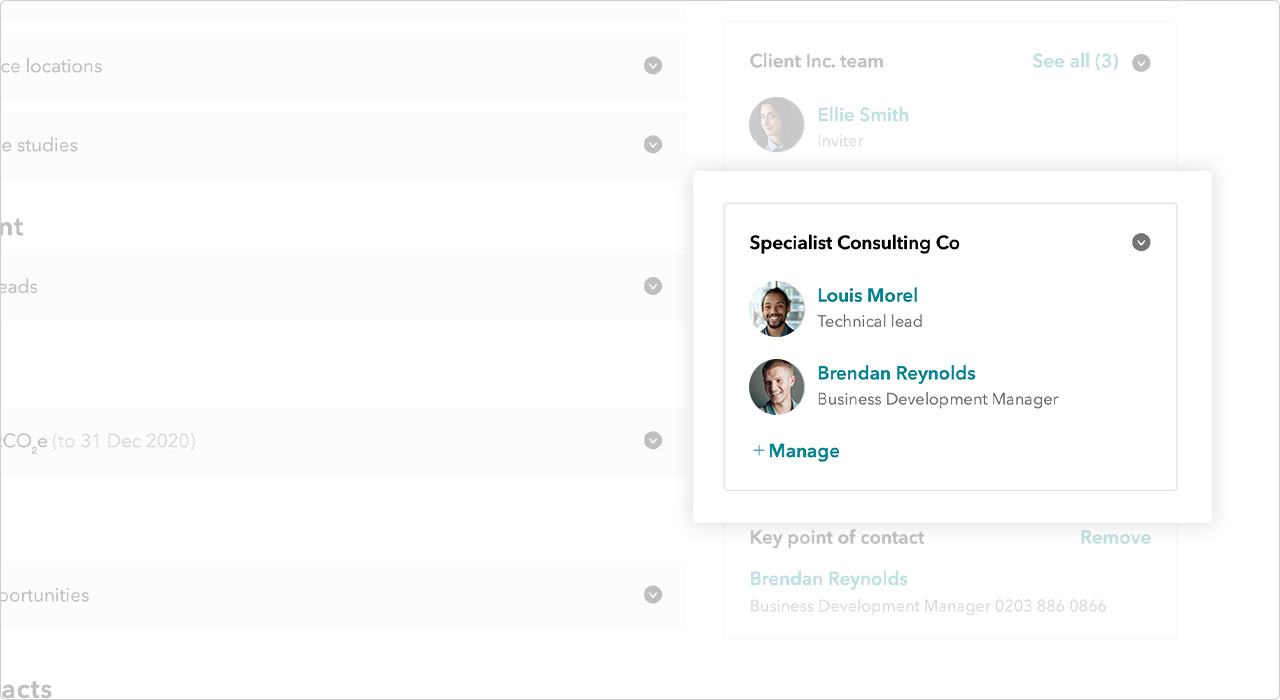 Also indicate your Key point of contact in the Account team section of your Company profile. This is the person your client should contact with new opportunities, etc. They do not have to be a user of the IAND platform, but we strongly recommend that you invite them.
3. Review your addresses
Your client has access to a searchable map for sourcing suppliers by Location. Manage your addresses from within the Locations module, to make sure your offices appear on the map:
Your Head Office will be pre-populated from your registration form.

Your Registered address may be pre-populated if we hold Companies House information for your company.

Edit or add new office locations from the Manage Addresses form by expanding the Locations module.
4. Showcase your Experience
Showcase your experience and success on relevant projects. This may include links to recent press coverage, awards won or other information in the description. Simply expand the Experience module, found in the About section, and click +Add to page.
5. Send a direct message to your client if you have any questions!
You can contact the members of your client account team at any time by sending a direct message through the platform, using the Direct messages module, under Account management. Simply click the +Start a new thread link to initiate a new conversation. Each member of the client team will receive an email notification, and can reply in the thread on the platform.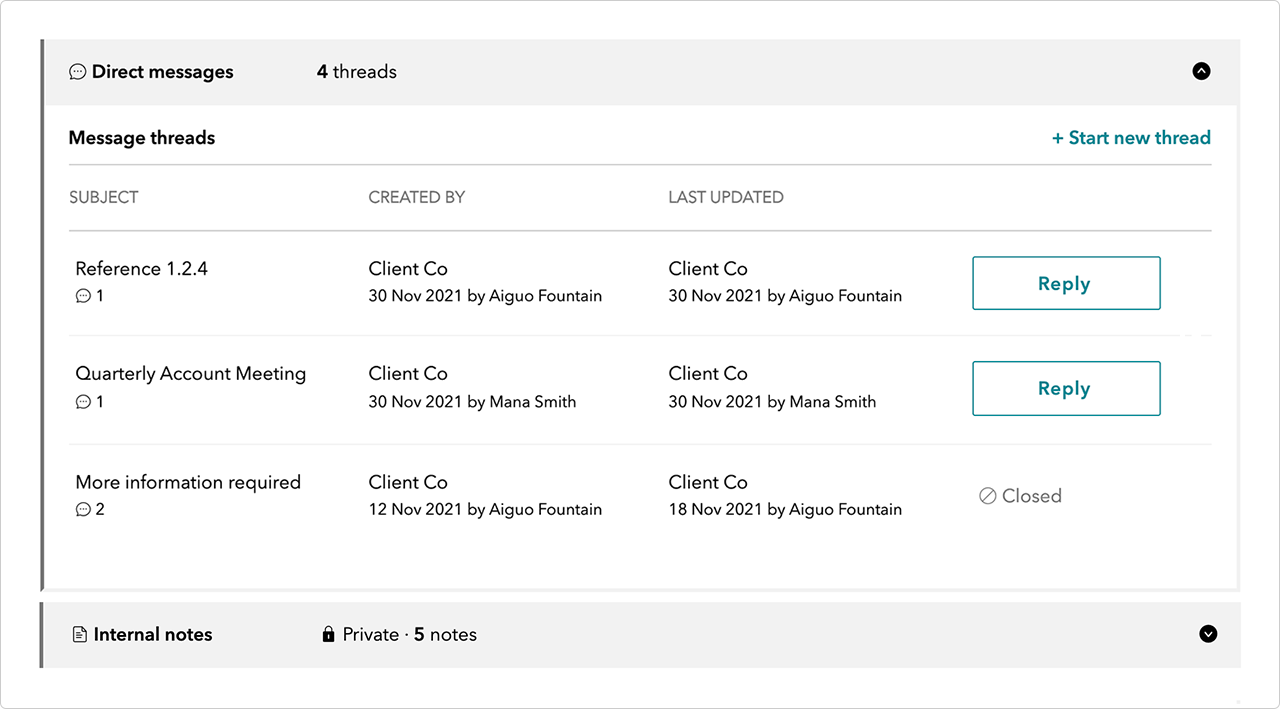 6. Add ESG IMPACT data
Your client can search for suppliers in their ecosystem based on ESG criteria. We recommend you add your data if available. Note that our IAND IMPACT API may have pulled in some data on your company before you were onboarded.
To add your ESG data for your Organisation, Carbon, Innovation and Diversity, expand the ESG IMPACT module and click Manage ESG Impact. Use the +Add links to add data for one calendar year at a time. For more information on how to add you ESG Information, see this dedicated guide.