See which suppliers haven't accepted your invite yet, send reminders and cancel invitations.
After you invite a supplier, you can check on the status of the pending invitation. Learn how to invite a new supplier in this guide.
Finding your pending invites
Hover over Companies in the navigation bar and select Pending invitations from the dropdown. You can also access this page from the link at the top left of your Companies index.
This will take you to a dedicated list of all supplier companies that have a pending invitation from your organisation. You can see when they were invited and who the invitation went to.
Send a reminder to your supplier or cancel a supplier invitation
If you wish to remind your supplier of their invitation, invite a different colleague from within the same supplier organisation or cancel your invitation to a supplier, find the invitation in the 'Outstanding supplier invitations' list and click on it.
This will take you to a page where you can choose from three options:
'Remind' will allow you to manually send an email reminder to the original recipient. IAND also automatically sends a supplier invitation reminder after 2, 7, 14 and 21 days.
'Send to another person' will give you the option to send the invite to a different user, other than the original recipient (e.g. if you have a new point of contact) and add a custom message.
'Cancel invitation' will cancel your invitation to that supplier, making any invitation links that have been sent expire. This will notify the supplier that their invitation has been cancelled. Cancelling an invitation does not stop you from inviting the supplier again in the future.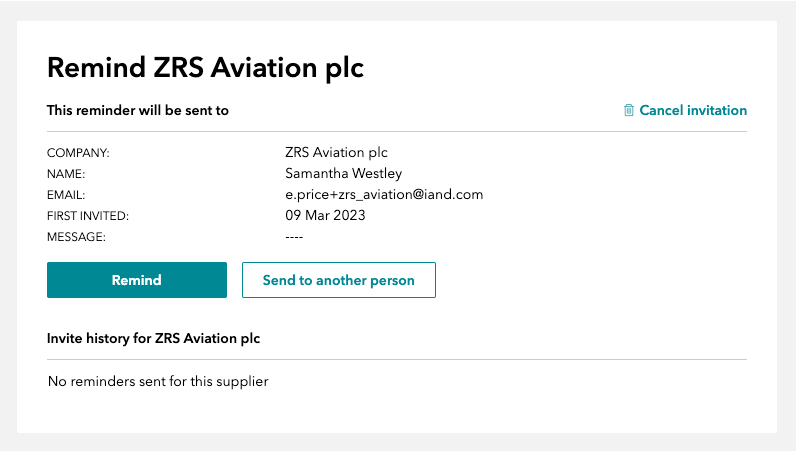 TIP! You can also remind or cancel supplier invitations directly from the 'Outstanding supplier invitations' list by clicking the dot menu next to the invitation and selecting an option from the drop-down.