Your client can use Opportunities to issue bids, challenges and frameworks, or communicate with and send updates to the entire supply chain.
As a supplier it's easy to respond and engage. When your client invites you to an Opportunity you will receive a notification via email. You can then:
View and manage all your Opportunities in your Opportunity Index

Receive bid materials, including updates to deadlines

Receive updates

Send and receive direct messages with individual clients

Issue proposals, with integrated approvals & notifications
We recommend that you invite your Business Development lead to join your account, so that they can receive notifications on new Opportunities from your client. There is no charge for this and no limit on the users you can have.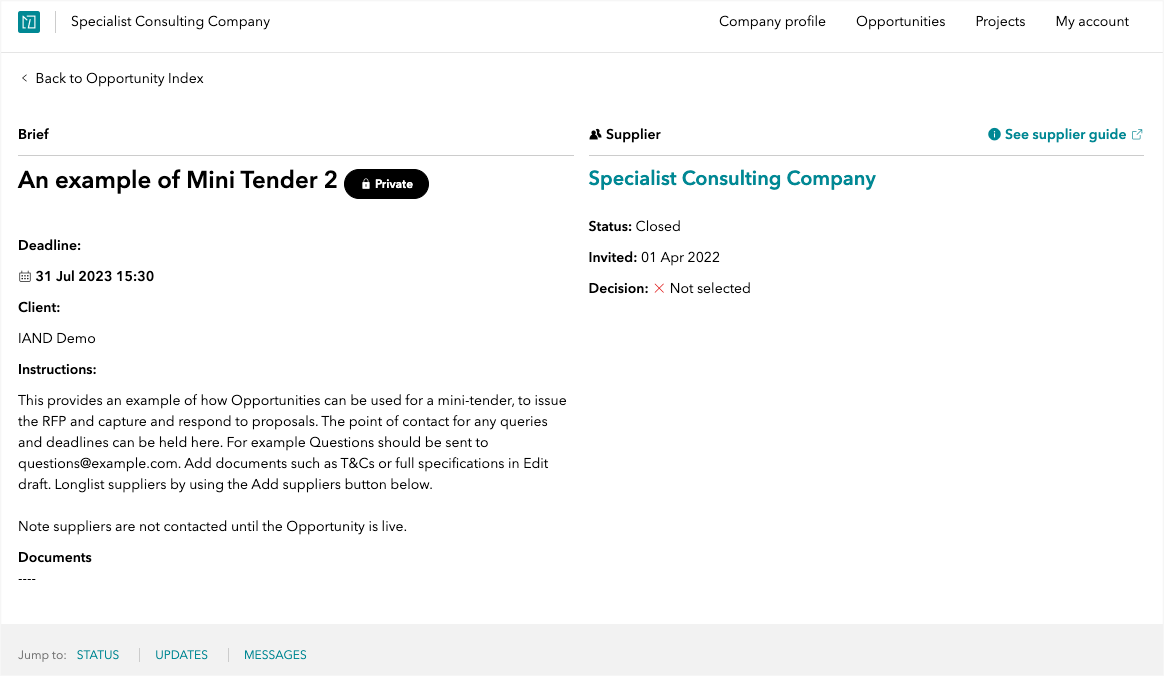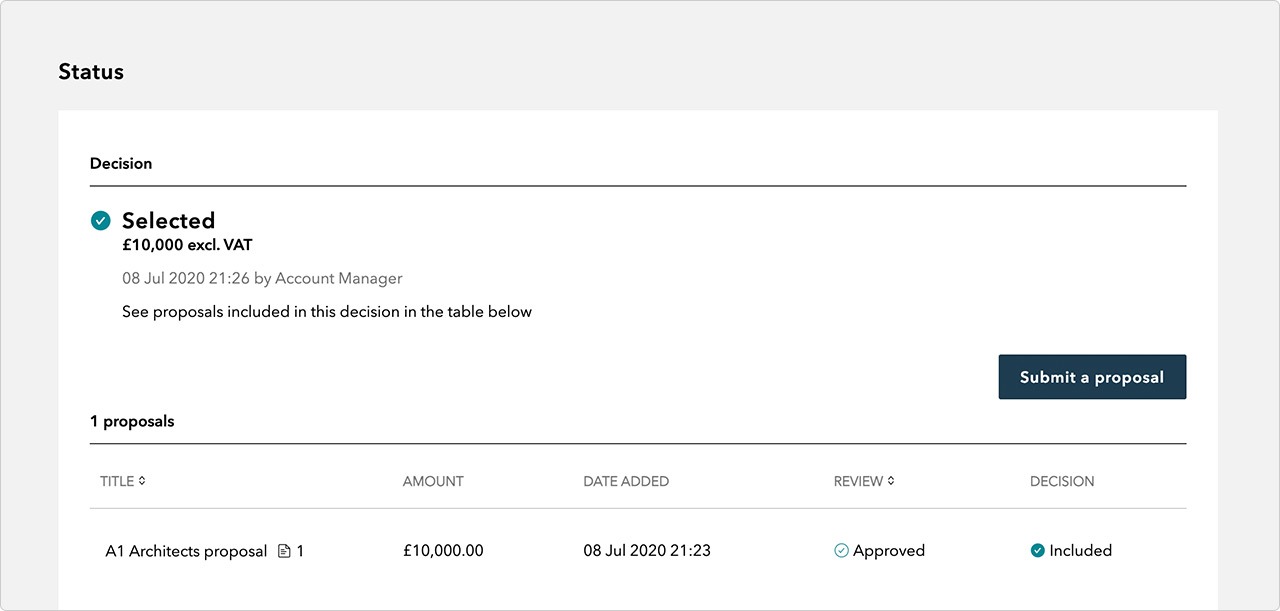 View and manage your Opportunities
Navigate to your Opportunity Index to see all of the Opportunities you have been working with your client on, including the deadline, status and outcome. You can also see which Opportunities have been marked as 'private' by your client, indicated by a padlock icon. Be cautious about speaking with the Opportunity team about these Opportunities as they may have been marked 'private' due to commercial and security sensitivities.
Four ways that clients can use Opportunities
Opportunities has been designed to support the different types of opportunities you receive from clients - from bidding for a place on a framework, responding to an open innovation competition to a traditional mini-tender or even as a channel of communication with the supply chain.
Bids and mini-tenders
Opportunities makes it easy for clients to run and manage bids, providing one home to store the bid information, updates and submissions.
Bids and mini tenders will have a deadline and you will be expected to submit a proposal. You can do this via the Opportunity page - where you can also send private messages to your client. For example, to ask a clarification question.
Your client will use the platform to review your submission, automatically notifying you of the status of your proposal.
Frameworks
Clients running frameworks want to share core information and regular updates with all suppliers. Your client may invite you to join a framework as a way of sending information to the whole supply chain - for example an invitation to a meet the buyer event or a quarterly update.
A framework won't have a deadline and it's likely you won't need to submit a proposal. You can send private messages about the framework to your client via the Opportunity page.

Challenges and competitions
Clients may ask you to take part in a competition or an open call for innovation ideas.
Your client will explain the terms of the challenge and competition on the Opportunity page. For example, whether there is a deadline or whether submissions will be reviewed ad hoc.
You can submit a proposal via the Opportunity page and your client will use the platform to review your submission, automatically notifying you of the status of your proposal.
Communications and updates to the Supply Chain
Clients may use the Opportunities features to provide updates and communications to all of the suppliers they work with. This might include changes to Terms and Conditions, further information on new requests for information or on new supply chain initiatives.