Find a full historical account of your relationship with any supplier in your supply chain, in one place.
An overview
Each company that you see in your Company Index has its own dedicated Company Profile, where you can find:
Key company information provided by the supplier, including their addresses, website, and a showcase of their products and services.

Account team members who can utilise direct messages and internal notes for account management. You can add yourself to the account team to receive direct messages and updates.

ESG Impact metrics either populated by the IAND IMPACT API or provided by the supplier on a yearly basis across categories such as Carbon and Diversity.

Opportunities that the supplier has been/is involved in and the status of the opportunity.

Spend and performance on projects imported from your ERP system.

Compliance status including individual documents and compliance level management.
Note: Company Profiles are automatically created when we import new suppliers to IAND or when a supplier you have invited signs up. You can utilise the full range of collaborative features on a Company Profile once the supplier has been invited to join and accepted their invitation. Once suppliers are onboarded, they can brand their profile and outline their products and services as well as their ESG performance.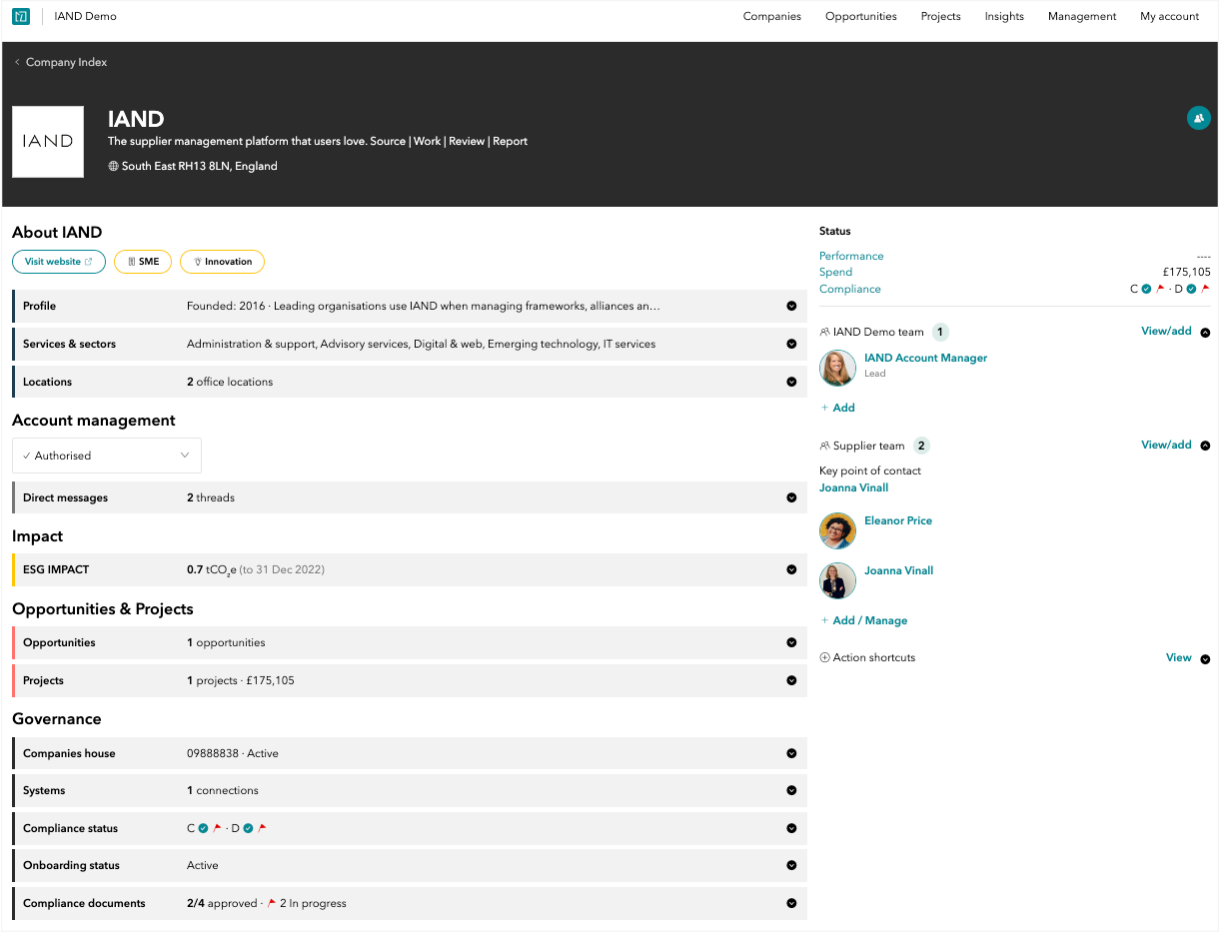 With Company Profiles you can:
Make informed decisions. Enable project managers to quickly assess a potential supplier. Have they worked with your organisation in the past? Are they a high / medium / low performer on projects or ESG?

Reduce time and risk. Easily see which compliance information is already in place, approved and up to date, saving both you and your supplier time and resources when working on multiple projects. Super users can create a set of tailored compliance levels and document requests for issue across your supply chain.

Keep in touch, all in one place. Contact members of the account team directly through the platform using the Direct messages module. For example, send information about an upcoming account meeting, or let the supplier know if their profile is missing key information you need to continue to work with them.
---
Company Profile features in detail
See the name of the company, a summary description about who they are and their registered address. On the right, see the platform status of the supplier. If the supplier is not live, you will see a button here to invite them or send them a reminder.

Account team, Status and Notes
Add colleagues to the client account team using the +Add link, and remove members using the cross next to their name. If there are a lot of team members, use the down arrow to expand the list.
Also see which supplier users have access to the account, and who the supplier has designated as their Key point of contact.
Add or view notes left by your colleagues about this supplier, which can include documents and links. Notes are not visible to the supplier and can be deleted at any time.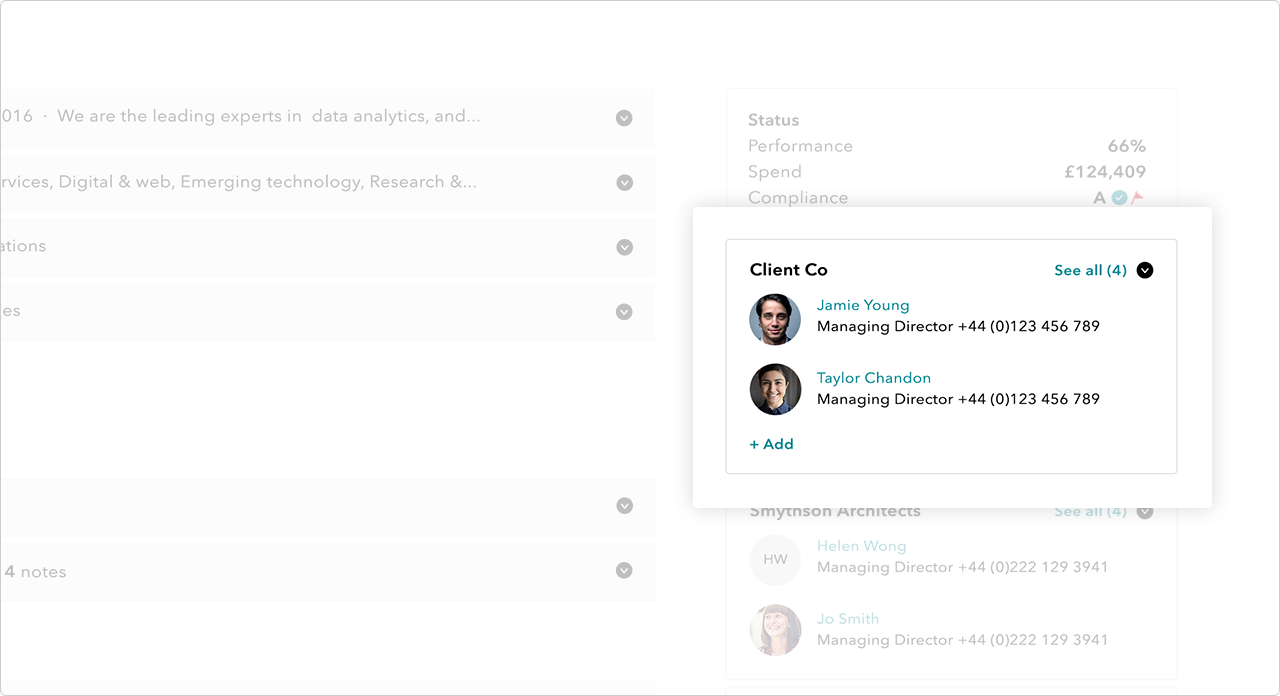 Core sections and their modules
The left side of the Company Profile is divided into five sections, each containing a number of modules. Each module can be expanded to see the information and functionality inside. Below is a list of each of the five sections, and the modules they contain:
Profile: information from the supplier on their size, founded year and full company description
Services and sectors: a showcase of the supplier's areas of expertise
Locations: Head office, Registered address and Other office locations where provided, as well as regions covered for work
Experience: will appear if the supplier has provided projects they wish to showcase
Company category: select from the dropdown to change the category. Find out more about using Company categories in this dedicated guide. Company categories are not visible to your supplier.
Direct messages: send messages to the supplier account team about upcoming meetings or questions about their profile. To start a new conversation use the +Start new thread link, and close threads when they are resolved.
Information from the supplier on their Organisation, Carbon, Innovation and Diversity metrics. Some of these metrics may automatically be pulled in via the IAND IMPACT API before the supplier is onboarded. Click See details to view the full history. Note you can search for suppliers based on these criteria using the ESG IMPACT filters on the Company Index.
Opportunities & Projects (Level A and B only)
Opportunities: see the list of Opportunities this supplier has been invited to, and click through to view the Opportunity details, including status (selected, not selected, pending).
Projects: find the projects this supplier is working, the amount you are spending with them and their performance, if feedback has been activated. Discover if this supplier is a high-spend partner, or one which you may contract frequently but on low-spend projects. Use performance data to help you with sourcing decisions or identify discussion points for your next QBR. Click through to any project to view the details.
Note: Level C and D can view Opportunities and Projects if they have been added to the specific teams.
Governance
Companies house: from here you can find a link to the Companies House record for this supplier if available, enabling you to see any trading risks.
Systems: from here you can find the internal name and reference for this supplier from your own supplier address book/finance systems.
Compliance status: view, add and manage Compliance levels for this supplier.

Onboarding status: view the full platform status history for this supplier. Level A users can offboard suppliers and re-invite them to the platform from here.

Compliance documents: view the full audit of individual documents submitted by this supplier, with risk flags to highlight expired, pending and rejected documents. Find out more on how to request compliance documents in this dedicated guide.
If you need any assistance or have any questions, please don't hesitate to contact us on support@iand.com.