Find out how to use the IAND platform to gain insight into your supplier ecosystem.
The importance of an effective supplier ecosystem
SMEs are the biggest driver of productivity in infrastructure and construction, with a staggering 190,000 infrastructure and construction SMEs in the UK. This presents an incredible opportunity for UK engineering client organisations to build effective supplier ecosystems - making it easier to work with the right talent, drive impact and drive mutually beneficial growth.
The challenge of fragmentation
Most industry organisations have an existing supply chain and manual key account management processes in place, meaning value is constrained as information on suppliers is fragmented, making it hard to see suppliers' performance and skills, contract and compliance history and data on actual delivery performance.
This makes it difficult for project managers to source suppliers for projects and to select the best team for that particular job, as they lack visibility outside their own network.
The SME opportunity
The IAND platform is designed to help UK engineering clients build effective supplier ecosystems, that can be accessed throughout an organisation, to aid project managers in finding the best skills, and help quality and assurance teams ensure the right documents are in place.
---
IAND supporting visibility, impact and control
The IAND platform lets you access your full supplier ecosystem on one secure, cloud-based platform. Forming a private marketplace that is visible to your organisation only, where you can search and browse the right specialists, drive performance and hold up to date compliance information.
As a client user, you will have access to all companies in your ecosystems. Supplier companies can be invited to join, but only have visibility of their own profile page.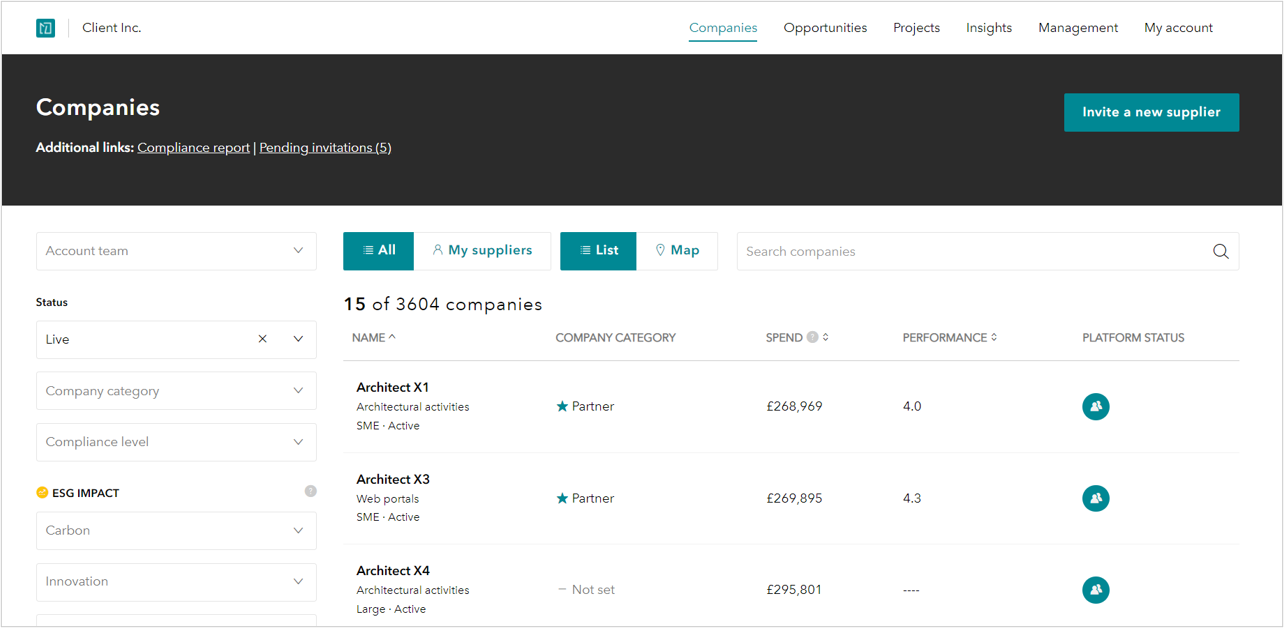 Benefits of using IAND
Full visibility into companies, projects and spend
Our dedicated Companies Index page gives you one central place to view and access information on all companies.
Explore your full supplier ecosystem in one place, searchable and easily accessible within your organisation

View your supplier ecosystem either on a map or list view

See all projects undertaken by a supplier, the budget, spend and recent performance

Understand which suppliers are approved for future work, and which should no longer be used.
Each company that you add to the IAND platform will have its own dedicated profile page. You can choose to invite your supplier company to join IAND (suppliers join for free) to help them showcase their core information, products and services. More on Company Profiles.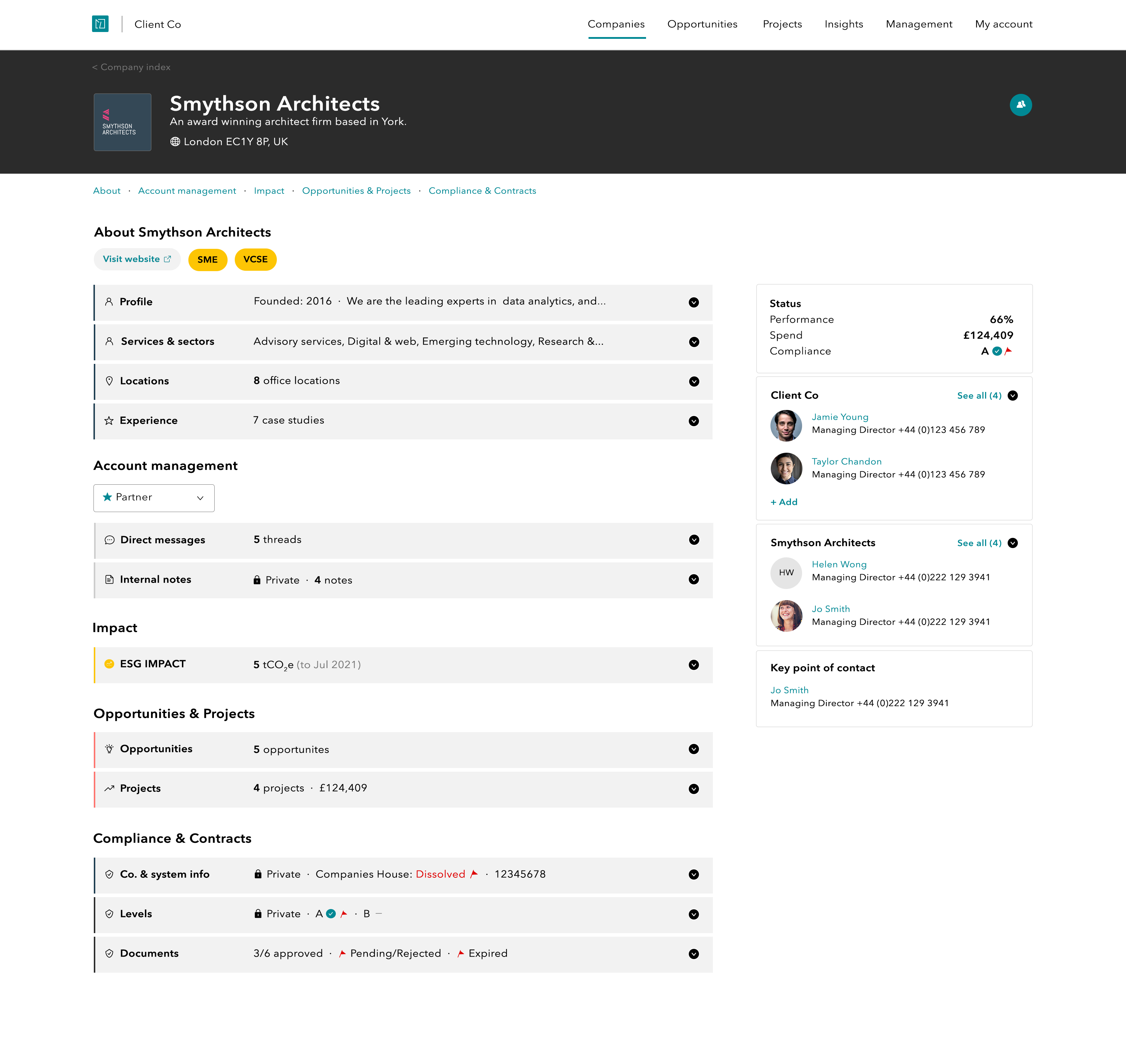 Track impact derived from your supplier ecosystem
With growing regulatory requirements to demonstrate SME spend, we have made it easy to give insight on the impact you have made across your ecosystem.
Visibility into spend allocation by SMEs v Large suppliers. Helping you monitor your spend levels against UK Government's 33% SME target.

Capture real, financial return from innovative supplier projects.

Automatically collect ESG data using the IAND IMPACT API, which can be enhanced by suppliers once they have been onboarded.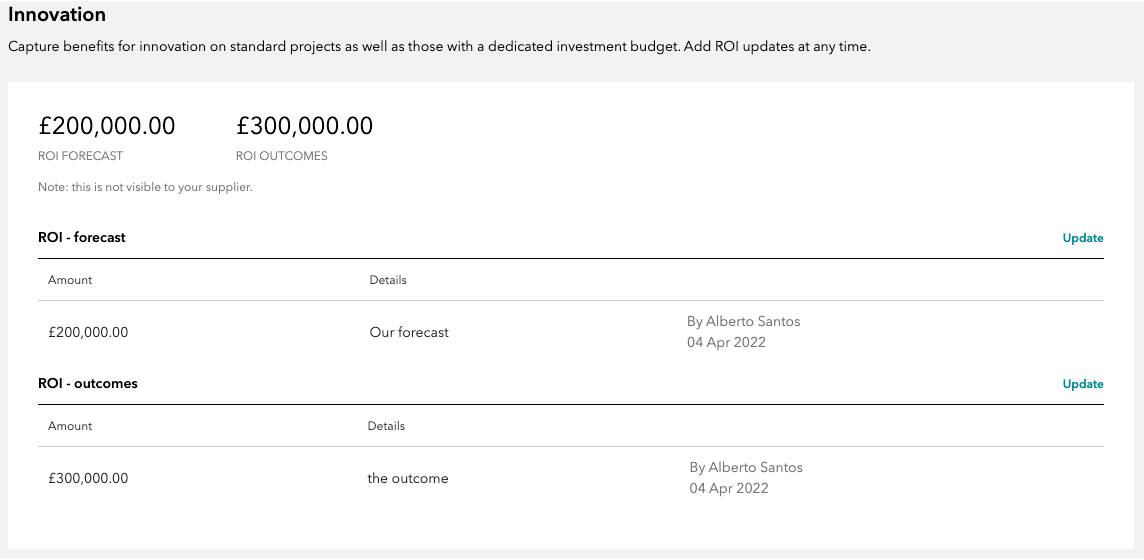 Enhanced controls.
Our platform is designed to make it fast and efficient to work with your supplier companies, and ensure the right documentation is in place.
Helping you build a compliant ecosystem: Instantly see which suppliers have up to date compliance information in place, request and track documents, and minimise administrative efforts with our automatic compliance expiry reminders.

Signal which suppliers are approved for further work: Configurable Company categories and Compliance Levels give your teams instant visibility on a supplier's suitability for new work, helping your project manager navigate your ecosystem effectively. See Company Category guide. See Compliance Levels guide.

Reduce risks by monitoring Companies House status, updated every 24 hours.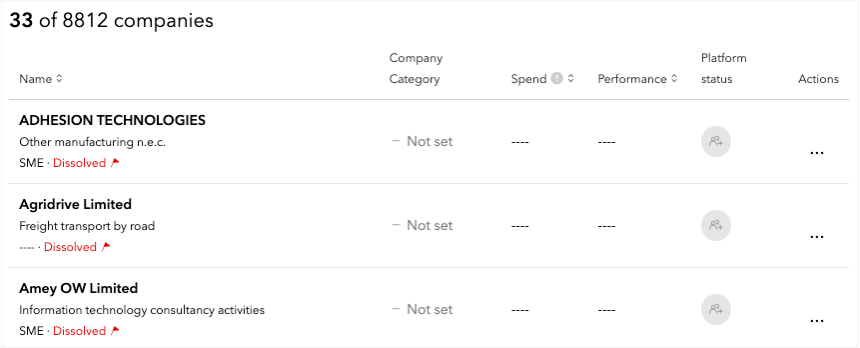 Examples of supported use cases
A Project Manager is looking for a great architect
Project Managers can use our Company Index to search and look for a suitable company, in this example, a trusted SME architect. Here is how IAND can help:
Visit the Companies page, and explore supplier profiles:
Browse / search to find architects within your ecosystem. Can you evidence local spend to support your Levelling Up agenda?

Review performance: How well has each supplier performed on recent projects? Performance score is based on our integrated 360° project feedback tool.

Review assigned Company Category and Compliance Level: Is the supplier approved for further work? Or does your assurance team state that the supplier is not fit for your business?

Review ESG performance: Can the supplier help meet the Social Value and Net Zero goals of your project and client?

Check Companies House status: Is the supplier active or perhaps facing financial difficulty?

Check Internal notes: What comments have your colleagues made about this supplier?

Explore your supplier's profile, and the products & services they have showcased. Does this fit what you are looking for?
If you have found a company that you would like to explore for work, please follow existing internal processes.
QSSE team needs to ensure all suppliers are compliant
If your QSSE team is responsible for overall supplier compliance, we have the right tools to help ensure compliance information is up to date and tracked across your portfolio as a whole.
Ensure compliance by:
Setting the appropriate Compliance Level for the type of work the supplier is/will be engaged in and assigning the relevant reviewers (e.g. QSSE, Finance, Social Value team)

Request compliance information from a supplier's profile. Read guide

Monitor approval rates in the Compliance Index
Management need to understand impact of spend
Management can use our dedicated Insights report (read guide) to view spend and impact metrics on a portfolio level.
IAND can provide clients with dedicated reports, to track current compliance status, and overall monthly account status. Please speak with your account manager for more information.
The supplier experience
Suppliers join IAND for free. When a supplier joins IAND, they can view their Company profile and also see projects which they are collaborating on.
A supplier cannot access your Companies Index or see other supplier profiles.