Use this guide to learn more about how to give feedback on a project using the IAND platform.
Performance feedback is our integrated 360° performance review system, designed to drive collaboration, track performance and uncover success stories. Each portfolio can tailor their question set, making it easier to respond to changing regulations, client targets and track the metrics that matter to you. Requested* either monthly or quarterly, both clients and suppliers involved in a project can provide feedback.
In this short guide, we show you how you can give feedback on a project. Any Level A-D user can provide feedback on a project, if they are on the project team.
Giving feedback
As a project team member, once feedback is due, you will receive an automated email from IAND, click on the button to provide feedback.

This will open a separate form on the platform.

Fill in the form: The survey is based on a custom question set, and we recommend providing constructive and useful feedback - which will be accessible by both client and supplier teams.

Click Submit.

Done! Everyone on the project team will be notified as soon as the results are in. Both clients and suppliers will have access to the scores and comments on the relevant project page.
Note: The survey is open for two weeks, ensure you provide your feedback in time.
Managing feedback rounds
You can use the Project Index to view which contracts require your feedback and the deadline dates.
Click Projects > My projects
View Performance status in the column on right
Access the feedback form by clicking on the link

TIP! You can filter the Project Index 'By staff member' and by 'Open feedback' to prompt your colleagues to complete their feedback.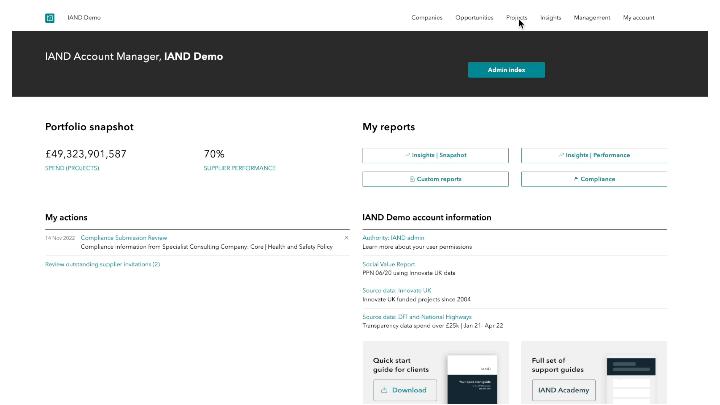 Track performance
Once feedback is collected, the Performance score (standard metric that is consistent between each portfolio) will be published on the project page for the team to read, discuss and act upon. In addition, client users can view performance scores across the responsive performance report in Insights or through the Company Index and Project Index.