Add additional supplier users to the account to collaborate on Opportunities and Projects and request their feedback. Remove supplier users if they change role.
Benefits of managing supplier users
See the full team for every Live supplier on your portfolio, including users who are pending.
Invite new users to a supplier account, for example to give feedback on a Project or respond to an Opportunity.
Manage changes in staff within the supplier organisation by inviting new contacts to join.
Remove a supplier team member when your contact changes role / leaves the organisation.
How to view and invite new supplier users
Find your supplier in the Companies Index. Click on their Company Profile and scroll down to the supplier account team on the right hand side.
Click '+Add/Manage' to view the user management page for that supplier.
Note: if you cannot see this link then the supplier is either not yet Live or you do not have the required Authority Level. You can read more about Authority Levels at the bottom of this article, and in this dedicated guide.
From the user management page you can view all users on the supplier account. Click 'view pending' to view pending invitations to supplier users.
Click the button to 'Set up a new user', and complete the form with their name and email address.
Clicking 'Send invitation' will issue an email to the new user with instructions for setting up their account. This will also email all of the existing users on the supplier account to notify them that a new user has been invited. This is for information security purposes, which you can read more about below.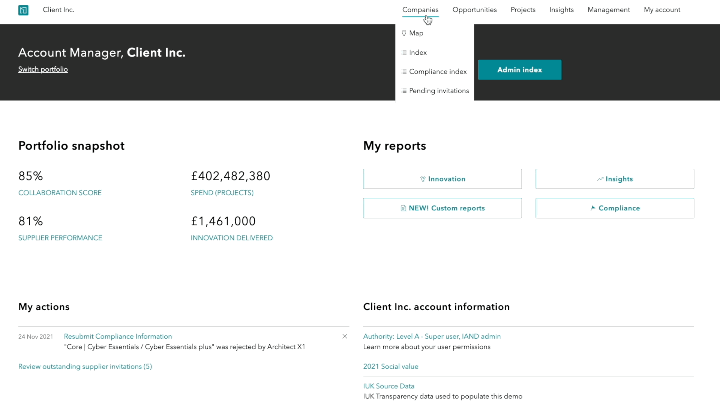 Note: you can only manage supplier users on Live supplier accounts (you can read more about supplier Platform statuses here).
Send Reminders and Cancel invitations
Starting from the user management area for the supplier, click 'View pending' to see all pending invitations on the account. Click through to an individual invitation to view the invite history, send a Reminder, or Cancel the invitation:
Issued an invitation and had no response? Click the 'Remind' button to remind the supplier user that their invitation is waiting for them.
Issued an invitation with a typo? Or to a user who no longer works for the supplier organisation? Use the 'Cancel invitation' button to remove the invitation and make the invite link expire. This will notify the user that their invitation link has expired, and also notify any live supplier users on the account that a pending invite has been cancelled. Cancelling an invitation does not stop you from inviting the same user again in the future.
Deactivating a supplier user
You may wish to remove a member from the supplier team when they change roles or leave your supplier's organisation.
Navigate to 'Supplier team' on the Company profile
Click '+Add/Manage' to view the user management page for that supplier.
Click on the name of the supplier team member you want to remove and click 'Deactivate'
Information Security and Permissions
Inviting a new supplier user will grant access to the supplier's account, including all their Opportunities and Project information. For this reason we have built in extra information security checks. These include:
A double confirm every time you invite a new supplier user.
A warning if you attempt to invite a user with an email domain that does not match the domain of the existing users on the account. If you see this warning message, we recommend you validate the new user's email address against the existing users.
The full supplier team receive a notification when a supplier user is invited. Suppliers are instructed to send a Direct Message through the platform if they have any questions about a new invitation you have issued. Note: Make sure you are on the client account team to receive notifications.
Permissions
This feature is only available to Level A - C users. You can read more about Authority Levels and user permissions here.